Following a chaotic and disappointing outing in St. Louis for Adam Anderson and the Grave Digger team, they entered Detroit with the Monster Jam FS1 Championship lead still in hand, and the opportunity to clinch the title within reach. Questions lingered though about Anderson's competitiveness in a different Grave Digger, but he would quickly prove that it's the man behind the wheel, and not the truck under him that has been the dominant force on the 2016 Monster Jam FS1 Championship Series.
Anderson stunned Monster Jam fans on Wednesday when he posted an image of Grave Digger 32 at Digger's Dungeon in North Carolina with a completely rebuilt front end and repaired roll cage. The failed backflip from St. Louis caused significant enough chassis damage that the entire front half was scrapped. Fabricator and former driver Paul Cohen, along with some of the other Digger's Dungeon crew worked feverishly to rebuild Grave Digger 32, or as Anderson has dubbed it, 32.5. While they worked a small miracle in rebuilding the chassis, there simply wasn't enough time to get the truck competition-ready for Detroit. As a result, Anderson would borrow Carl VanHorn's Grave Digger 23 for the weekend, as CVH wasn't scheduled to compete at any events. Anderson would have to adapt quickly and learn the ins and outs of Grave Digger 23 in a short amount of time to try and hold off a hard-charging Damon Bradshaw and Monster Energy.
Friday afternoon's practice would be the first opportunity for Anderson to feel out Grave Digger 23, as well as an opportunity for the competition to get an idea of track conditions for the weekend at Ford Field. Bradshaw was one of the first drivers on the track in practice and had a rare off run in his first attempt, as Monster Energy struggled with the first turn for a slow time of 33.722. In the next pairing was the first look at Anderson, and he showed immediately that he was still competitive in a different truck as he laid down the fastest time in practice with a 24.289. The second quickest practice time was a bit of a surprise as Steven Sims Jr. and Pirate's Curse were hot on Anderson's heels with a 24.354. Before practice wrapped up, Bradshaw and Monster Energy would make a second practice pass and improve to a time of 24.685, but still encountered some trouble with the first turn.
The pressure would be on Bradshaw and Monster Energy early in qualifying, as they needed every point they could get to keep Anderson from clinching the Monster Jam FS1 Championship Series title. In the first pair out in qualifying, Bradshaw would improve on his practice time with a 24.642 but they still had trouble with the first turn in the right lane. All eyes shifted to Anderson and Grave Digger in the next pair. If Adam could out qualify Bradshaw it would take away a crucial potential point from Monster Energy. Anderson stepped up and delivered a 24.576 to take the top spot early. However Anderson would not take the top spot in qualifying, as Tom Meents and Max-D would sneak in a 24.249 in the second to last qualifying pair. In second place would be Sims Jr. and Pirate's Curse laying down a 24.306, while Chad Fortune and Soldier Fortune recorded a 24.365 for third place in the final qualifying pair.
While Meents started off the night with a point, his racing efforts would get cut short early as a broken front driveshaft would take Max-D out of racing for the second straight week. Bryan Wright and Hooked would move into the semi-finals with an easy win in round one. The next race would be the deciding factor of the Monster Jam FS1 Championship Series title, as Anderson and Bradshaw faced off. Bradshaw needed to take the win to keep his chances alive, while a win from Anderson would clinch the series. With the pressure on both drivers, it would be Anderson looking calm and collected with the fastest time of the weekend to that point at 24.056, more than a half second faster than Bradshaw's 24.662. The win gave Anderson the title, but he wasn't stopping there as he moved on to the semi-finals. Other round one action saw Dustin Brown and Junkyard Dog defeat Soldier Fortune, while Pirate's Curse would defeat Mike Vaters II and Overkill Evolution.
Anderson's fast pace didn't stop in round one as he improved on his previous time with a 23.879 in his victory over Hooked. The other semi-final race saw Brown and Junkyard Dog put together a strong run to defeat Pirate's Curse, but at 24.606 he didn't quite have the pace of Anderson heading into the final round. In the final round it was all Anderson as he improved yet again with the fastest time of the night at 23.804 in the Grave Digger, over a second faster than Brown's 24.840. After the win, Anderson pulled to the top of the center freestyle jump where he saluted the crowd and was presented both the racing trophy as well as the Monster Jam FS1 Championship Series trophy. Even with the series trophy in hand, Anderson made it clear he wasn't finished, as he wanted the freestyle trophy as well.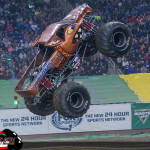 The freestyle competition got kicked off with a bang as local boy Brad Allen and Brutus rocked Ford Field with a great freestyle run. Allen turned in some nice jumps during his regulation time before he nailed his first ever backflip in bonus time with a picture perfect flip. He would go on to finish his performance with a sweet set of donuts and a huge ovation from the Detroit crowd. The run would set the bar high to start off the competition and set the lead at 27.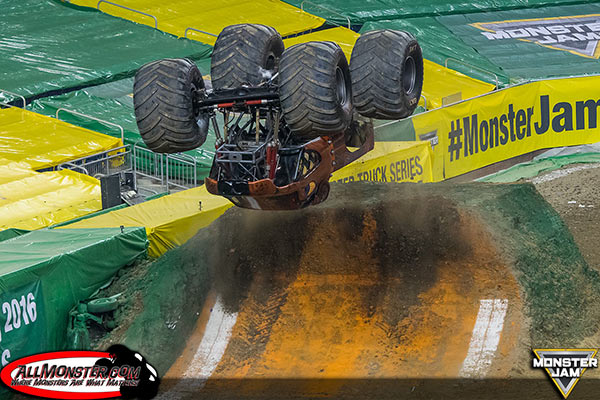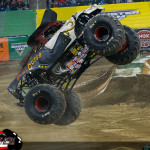 Allen's lead wouldn't last long though, as Steven Sims Jr. and Pirate's Curse charged out of the pits to a good run of his own. In typical Sims. Jr fashion, he put together some big air hits and strong momentum throughout regulation time. Unfortunately for Sims Jr. an all-too-familiar scene of a bad bounce put Pirate's Curse over onto its roof before bonus time. The rollover cut his efforts short, but it was good enough to take the lead by one point with a total of 28.
The 2016 season hasn't been very notable for Mike Vaters Sr. and Black Stallion, with much of the attention going to son and teammate Mike Vaters II and Overkill Evolution. Detroit saw Vaters Sr's best freestyle performance of the year, as he put together some good hits and a nice slap wheelie. The big surprise came when the Black Stallion lined up for the backflip ramp in bonus time. Vaters Sr. went up, but much like Anderson the week before, did not get the needed rotation which lead to a heavy impact to the front of the Black Stallion. Thankfully Vaters Sr. was okay, but the Black Stallion suffered some damage to the front of the chassis as well as one of the rear shock towers.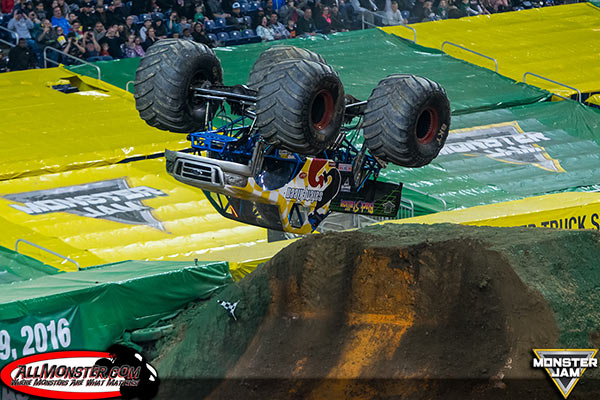 Early breakage would hamper the next three competitors in freestyle. War Wizard broke off the right front wheel on the first hit in freestyle, resulting in just a total of five points. Dustin Brown and Junkyard Dog had a strong racing outing, but an early rollover led to a score of 23. Linsey Weenk and the Lucas Oil Crusader didn't fare much better, as a locked up planetary ended their chances early resulting in a score of just 24.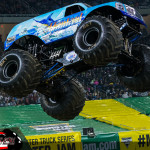 The next driver out in freestyle has been quietly having a very solid year. Bryan Wright and Hooked have been competitive all season long. Wright would put together a good freestyle run with some nice air and momentum, as well as a completed regulation and bonus time to take the lead with a score of 32. Becky McDonough and El Toro Loco would raise the bar even higher in her run with another strong performance to take the lead with a score of 35.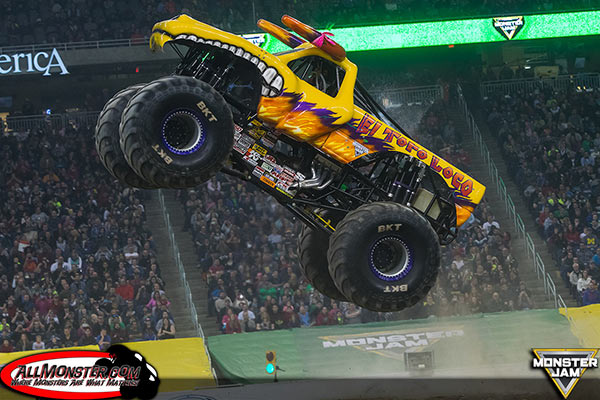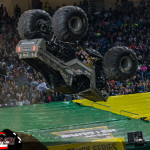 Chad Fortune and Soldier Fortune have had some up and down luck when it comes to freestyle on the 2016 Monster Jam FS1 Championship Series. While some weekends have seen strong freestyle runs, others have seen early rollovers or mechanical problems knocking them out of the running. Detroit would see a breakout performance from Fortune, as he put together his best freestyle of the season. Soldier Fortune got plenty of big during his run and would also see its first ever backflip, as Fortune nailed a huge high arching backflip. The landing was clean, however the force was hard on the truck resulting a broken axle housing to end the run. A regulation score of 31 wasn't as much as El Toro Loco, however the bonus score of 4 would put them into the lead with the higher bonus score tie-breaker. An amped up Fortune got out of the truck and saluted it from the top of another freestyle obstacle before making his way to the hot seat.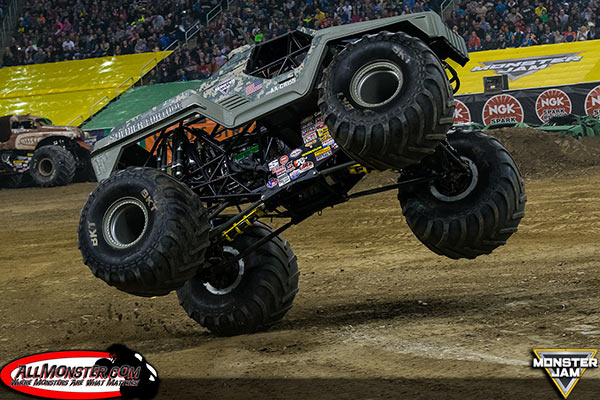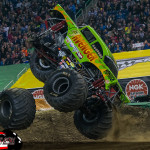 Mr. Excitement, Jim Koehler had over a thousand friends and family in the stands at Ford Field, and he was set to unleash the Avenger in freestyle. Koehler went big early but took several hard bounces from landing on or off to the sides of other obstacles. It didn't bother Koehler, however, as he lined up hit after hit in freestyle, until a big air launch over the middle of the floor broke off the left front wheel. Koehler, ever the resourceful driver, worked the bounce into a slap wheelie as the left front came off. A final donut would end Koehler's run a little early, but he completed most of regulation time for a score of 30.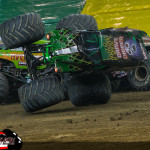 With both the Championship trophy and racing trophy in hand, Adam Anderson and the Grave Digger team were already big winners on the night, but that didn't mean they weren't going for the Double Down too. Putting it simply, Anderson burned it down with a blistering freestyle. Big air and great momentum highlighted his run, along with a spectacular save as Anderson spun the Grave Digger around on the sidewalls and back onto all fours. There just wasn't any quit in both Anderson and the Grave Digger as they drifted around the floor like a short course off-road truck, nailing every obstacle on the floor and shedding body panels along the way. Anderson would park a naked Grave Digger at the end of floor and salute a packed Ford Field. The judges rewarded Anderson with a score of 42 to take the lead.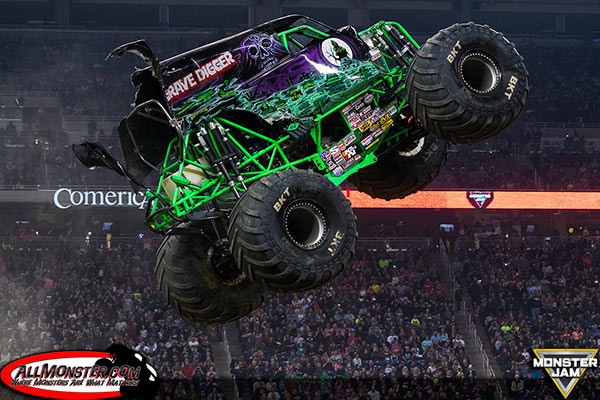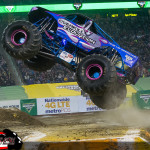 It would be a tall task to take down Anderson and the Grave Digger, but Mike Vaters II and Overkill Evolution looked like a strong challenger early. Vaters started off his freestyle with some great big air launches, but trouble with a rear shock early would keep them from making a charge for the lead. It was an unfortunate break for what looked to be a promising run. Next up would be Damon Bradshaw and Monster Energy with an attempt to take down Anderson and get revenge for his racing loss. Bradshaw wasted no time, sailing Monster Energy right out of the pits with some of the biggest air of the night. As luck would have it though, the Monster Energy machine would suffer a rare mechanical failure after just two jumps in freestyle.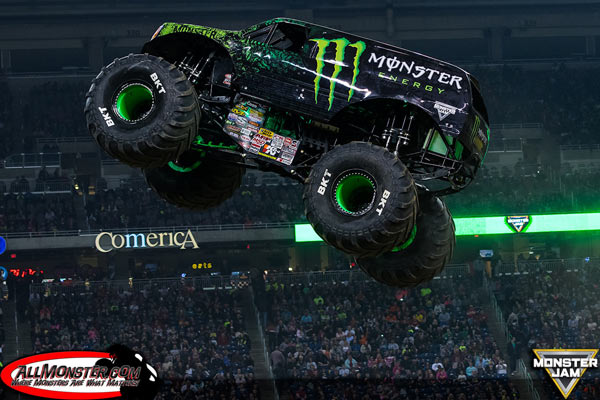 The last remaining combatant would be Tom Meents and Max-D. Meents was hellbent on spoiling Anderson's Double Down and went big early and often. Meents put together some of the biggest jumps of the night, but an awkward jump across the floor lead to a four link bar in the front end folding up and rolling Max-D over before bonus time, which handed the freestyle win and Double Down to Anderson.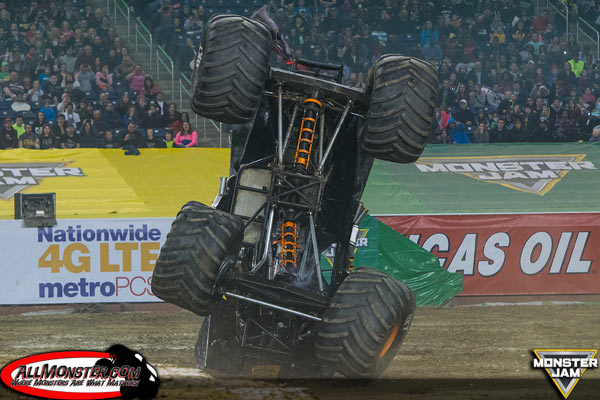 After perhaps the roughest outing of the season for Adam Anderson and the Grave Digger team in St. Louis, they dug deep and put together another dominating performance in Detroit to clinch the Monster Jam FS1 Championship Series title. With that Anderson has also guaranteed himself a spot into the Monster Jam World Finals XVII field, however as a 3-time champion you had to imagine he'd be in the mix somehow. With such a stellar season, Anderson has made his case to be one of the favorites heading to Vegas, but one event still remains on the Monster Jam FS1 Championship Series. There's no doubt that Anderson and company will be going just as hard in Syracuse to bring home even more wins next week. Meanwhile the final event of the series gives the rest of the field a chance to score some more points and prove they are worthy of an invite to the World Finals in just a few weeks. Second place is also still up for grabs, as Damon Bradshaw and Tom Meents are only separated by three points. Both drivers won't be satisfied with second place, but they're both competitive guys who will be going for wins regardless of their place in the standings.
Monster Jam FS1 Championship Series Points
Grave Digger – 22
Monster Energy – 10
Max-D – 7
Junkyard Dog – 3
Avenger – 3
El Toro Loco – 2
Brutus – 1