As the Monster Jam FS1 Championship Series reached Round 7 in St. Louis, the big storyline was if anyone could stop the dominance of Adam Anderson and Grave Digger. With a 10-point lead and last week's Double Down in Anaheim, it looked like a prime opportunity for Anderson to capitalize and clinch the title. With Damon Bradshaw and Tom Meents the only two drivers not mathematically eliminated from the championship, they knew it would take a major momentum swing to keep the championship hunt alive. By the end of the night, the points championship saw one more driver eliminated from contention, but a still not clear picture of the series outlook.
The points breakdown was relatively simple for keeping Anderson and Grave Digger from clinching the Monster Jam FS1 Championship Series. Keep Adam from scoring at least three points, and keep the gap under ten. For Damon Bradshaw and Monster Energy at ten points behind, it would be a tough task, but certainly not insurmountable. Bradshaw has been one of the most consistent drivers all season in both racing and freestyle, with the ability to Double Down on any given night. For Tom Meents and Max-D, it would take a near perfect night to keep them in the running. Meents needed a Double Down and Anderson to score one point or less. While Meents is capable, his racing game hasn't been on the level of Anderson and Bradshaw, making his chances seem unlikely.
On Friday Bradshaw showed he wasn't going down lightly, as he delivered the first punch of the weekend by putting down a time of 23.895 in practice. Bradshaw's time was considerably quicker than Anderson's 24.222, but you have to wonder if Anderson didn't want to show his hand too early. As qualifying got underway on Saturday, Bradshaw proved his practice time was no fluke, as he turned in time of 23.673 on the first pass of the night. The next pair had potential to turn in some quick times with both Mike Vaters II and Dustin Brown being capable racers, however they found themselves in trouble quickly, as both drivers bicycled their trucks and rolled over in the second corner. It was a truly rare sight, and one that brought up old memories of Carolina Crusher and Bigfoot in Canada in the early 90s.
As the qualifying pairs went on nobody else seemed to be able to match the pace of Bradshaw until the second to last pair, when Anderson pulled to the starting line. With a crucial point towards the Monster Jam FS1 Championship Series up for grabs, Anderson laid down a strong pass, but it was just off the mark as the Grave Digger put up a time of 23.827. The two drivers would be the only ones to put up sub-23 second passes. The next closest competitor would be Meents and Max-D at 24.426, which was .753 off Bradshaw's time. Making up that gap wouldn't be Meents' biggest issue though, as Max-D had issues with the front driveshaft that needed immediate attention. With drama building in the pits, Bradshaw would claim the first point of the night, closing the gap on Anderson to 9 points.
The start of round one delivered the single closest race of the season where the slimmest of margins could've had monumental implications on the chase for the Monster Jam FS1 Championship Series. The match up pitted fastest qualifier Bradshaw against Steve Sims and the Stone Crusher. Bradshaw was the obvious favorite, with over a 1.5 second advantage in qualifying, but they don't just give the favorite the win because they're the favorite, they run the race. Bradshaw was off his game in round one with some wide turns that cost him crucial time, while Sims remained smooth and steady. As the two rounded the final corner they were nearly even with a slight advantage to Sims, but Bradshaw put the power to the ground and came from behind to defeat Sims by .002 seconds! In one of the closest races in Monster Jam history, Bradshaw and Monster Energy made a huge stride to keep their championship chances alive. Elsewhere in round one, Anderson would defeat Black Stallion to move into the semi-finals. Linsey Weenk and Lucas Oil Crusader looked solid in his defeating of Soldier Fortune, while Meents and Max-D would take out Bryan Wright and Hooked, but would suffer yet another front driveline failure to end his night.
With Bradshaw coming off the narrowest of victories in round one, he made sure to get back to his peak racing form in the semi-finals, putting together a 23.692 pass to defeat Weenk and the Lucas Oil Crusader to move onto the finals. The other match up saw two Currituck boys set to do battle, as Anderson and Wright squared off. From the green light, Anderson seemed off his game, laying into the throttle too hard out of the starting gate, pulling a slight wheelie coming over the start bump. A sloppy start led to a sloppy pass as Anderson and Grave Digger were all over the place, while Wright stayed consistent and put together a good run to defeat Anderson and move into the finals.
With Anderson out of the racing bracket, it was a perfect opportunity for Bradshaw to score two more points for Monster Energy in their chase to cut down the points lead. However their opponent was certainly no pushover, as Wright had turned in multiple 24 second passes on the weekend. Both drivers left the start gate hard and put together strong passes, but it was Bradshaw finding the edge and pulling out a slight lead to take the victory with the fastest pass of the weekend at 23.611. Wright certainly didn't lay down in the other lane as he turned in a sub-23 second pass of his own with a very strong time of 23.998. With racing in the books, Bradshaw wrapped up his third point of the night, and most importantly for him, kept Anderson and Grave Digger pointless so far. A freestyle win for Bradshaw, or a pointless night for Anderson could make waves in the championship hunt, and the title drama only got more interesting as freestyle went on.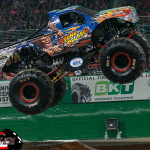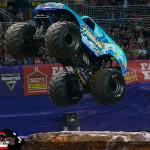 After losing possibly the closest race in recent history, Steve Sims Sr. and the Stone Crusher got the crowd going early with a great freestyle run as the fourth competitor in. Sims Sr. had a good flow to his run with solid momentum and some of the first big air jumps in the night to take the early lead at 33.
Chad Fortune and Soldier Fortune followed that performance with a good run of their own, just doing enough to nudge Sims Sr. out of the lead with a 35. Bryan Wright and Hooked put together a good run of their own to challenge for the lead, but didn't have enough to overtake Fortune, scoring a 32 for their efforts.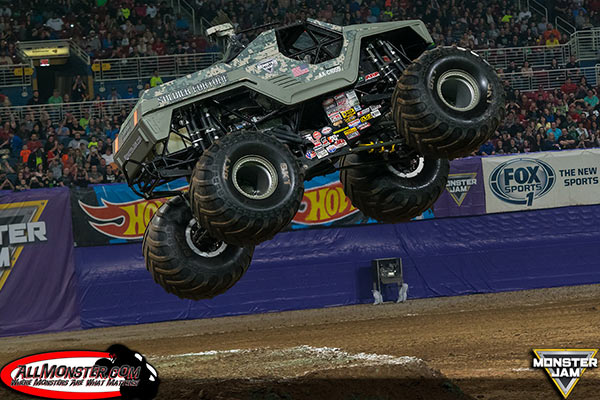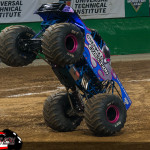 Following a pretty rough start to the night with a rollover in qualifying, Mike Vaters II took to the floor for freestyle like a man possessed in Overkill Evolution. Vaters II raised the bar immensely as he set the new standard for big air, momentum, and variety, mixing in a number of different jumps as well as slap wheelies. As he was clearly on pace to take the lead, Vaters lined up for the backflip ramp and went huge with a high arching flip. The truck hit the ground nose first and bounced back onto all fours to finish the run in impressive fashion. The judges rewarded Overkill Evolution with a regulation score of 34, adding a bonus score of 4 to take the lead at 38.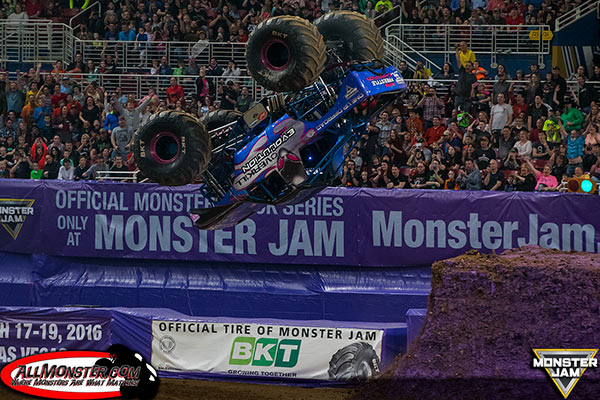 Vaters would face some tough challengers directly behind him as the likes of Brown, Weenk, and Koehler were the next three to take to the track. Brown and the Junkyard Dog had a decent freestyle going in regulation but didn't match the pace or the air of Vaters. A rollover relatively early in bonus time would ensure Vaters' lead was safe for now. The next challenger, Weenk and the Lucas Oil Crusader, would prove to be much more formidable. Weenk had some nice air of his own, but not the momentum or variety of Vaters. In bonus time, Weenk pulled out all the stops as he went right after the backflip ramp and nailed a clean backflip. He would follow that up with a massive sky wheelie over the backside of the center tabletop to finish up his freestyle. The big difference would come in the regulation scores, as Weenk would only get a 27 from the regulation judges, while he would match Vaters' bonus score of 4 for a total of 31. Two-time Monster Jam World Finals Freestyle Champion Jim Koehler was able to put together another a full freestyle with some good air, but like Brown and Weenk, wasn't able to compare to the momentum Vaters established. It would be a good score though, as Koehler and Avenger would earn a 34.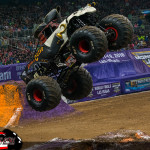 The next serious threat to Vaters' lead came from the young gun, Steven Sims Jr. and Pirate's Curse. Sims has been hit and miss over the course of the season with some great freestyle runs, but breakage and early rollovers have hampered their efforts in other events. Sims was on pace for a rocking freestyle with many big air jumps and multiple slap wheelies before the truck lost power just past halfway into the run. Sims was able to re-fire and put in two more huge air jumps before the right front gave way, ending his run early. It was a spectacular run while it lasted, getting mixed reviews from the judges with scores as low as 4 and as high as 9, resulting in a score of 20. While Sims may not have filled his time, one could argue the case that it deserved much better than 15th place at the end of the night. Regardless, the fans at the Edward Jones Dome were cheering Pirate's Curse after their performance.
Next up would be Becky McDonough and El Toro Loco. Last week McDonough had a breakout performance in freestyle with one of her career best freestyles as well as her first successful backflip. McDonough carried that momentum into St. Louis with another strong freestyle run with some nice air and good momentum. Once again McDonough lined up for the backflip ramp and sent El Toro Loco over backwards, this time though a bad bounce sent the crazy bull over backwards. The truck nearly bounced all the way back over to all fours but was shut off as a safety precaution before the front wheels could grab. It was another exciting run from McDonough and good enough to score high, but not enough for the lead with a total of 33.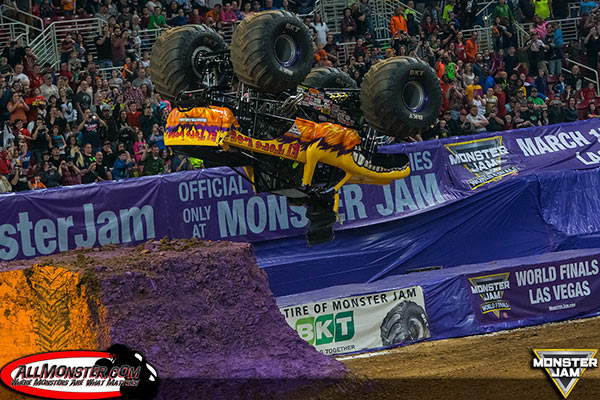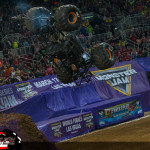 With just three trucks remaining, Vaters' freestyle lead was about to come under a serious threat with three former Monster Jam World Finals Freestyle Champions chomping at the bit to take the lead. Tom Meents and Max-D were officially eliminated from contending for the FS1 Championship Series title earlier in the evening, but there was no doubt that Meents would love to make things difficult for Anderson to extend his lead. It would be an all-out, no holds barred assault on the course from Meents and Max-D, as they attacked the course with a flurry of big jumps. Meents held nothing back throughout his run, shedding the body off of Max-D along the way. The barrage of hard hits started to take a toll on the truck, as suspension components started to fail in the rear end. Meents was undeterred though, as he pressed onward into bonus time and pulled off a massive backflip. The front tie-rod broke on impact, but Meents wasn't going to stop until Max-D had nothing left, as he wound up for one more big air leap to finish off his run. The fans were on their feet and the judges would reward him with a regulation score of 37 with a 4 in bonus time for a total of 41. While Meents took a commanding lead, there were still two heavy hitters behind him with a lot at stake.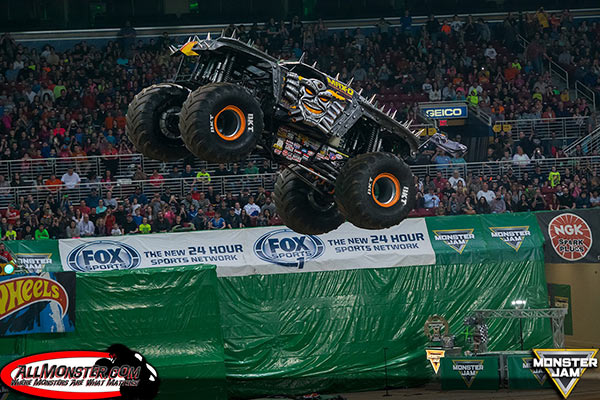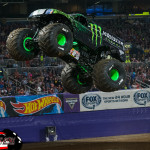 After picking up three points already on the night, Damon Bradshaw was in a prime position to sweep the event and turn the Monster Jam FS1 Championship Series battle with Adam Anderson into a dogfight with two events remaining. Bradshaw and Monster Energy tore out of the pits right into freestyle with huge air and a blistering pace. In typical Bradshaw fashion, it was one hit after another as they kept momentum like no one else. Big air, saves, and sky wheelies highlighted his regulation time, while Bradshaw stuck a picture perfect backflip in bonus time to cap off a spectacular freestyle run. As his time came to an end, Bradshaw parked the truck and climbed out onto the roof to salute the sell out crowd at the Edward Jones Dome. It was a stellar freestyle, but attention turned directly to the judges for the scores. The bonus judge would score Bradshaw and Meents the same, but the regulation judges only gave Bradshaw a 35, leading to a total of 39 in second place. The sweep was stopped, but series leader Adam Anderson and Grave Digger still remained.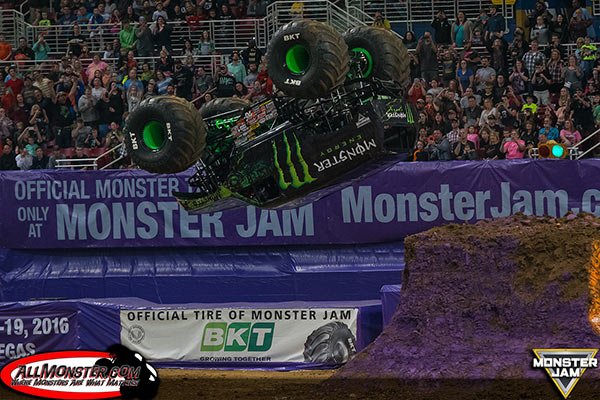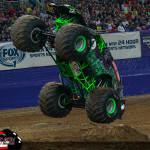 After being held pointless on the night so far, the pressure was on for Adam Anderson and the Grave Digger team to score two more points with a freestyle victory to make it even more difficult for Bradshaw to try and contend for the championship. While Anderson had a strong regulation time performance with some big air and slap wheelies of his own, it seemed to lack that extra spark seen previously with Meents and Bradshaw. With bonus time approaching, Anderson started to go bigger, and just as bonus time began, he lined the Grave Digger up for a backflip. Anderson wasn't squared up for the ramp and hit it a little out of shape, and as a result, the truck didn't get a good pop off of the ramp, leading to a weak rotation. There was nothing Anderson could do as the truck plummeted to the ground and onto the roof with a heavy impact. Not only was his freestyle done, but the truck was done too. Grave Digger 32 suffered an immense amount of chassis damage, with both the front frame rails and shock towers taking massive impacts. Luckily Anderson would be okay, but the same couldn't be said for the truck, as it would need to be sent off to North Carolina for extensive repairs. While the wreck was where the focus went, the judges put up their scores, which would result in a 37, not enough for the victory. It was the first time all season Anderson was held pointless, and Meents' second freestyle victory of the season.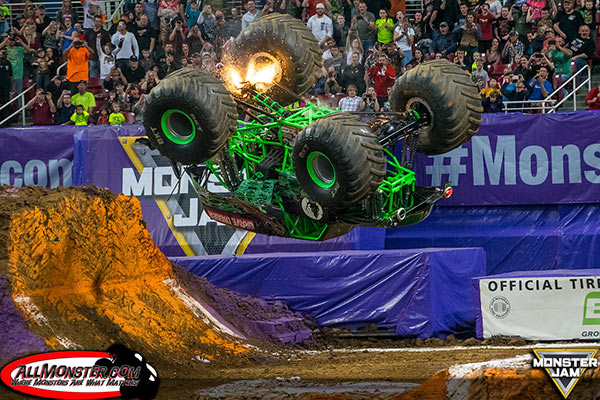 When it looked almost certain that Adam Anderson would walk away from St. Louis with the Monster Jam FS1 Championship Series title in hand, things very quickly changed for the outlook of the next two weeks. Damon Bradshaw and the Monster Energy team were able to close in a bit on Anderson, cutting the lead to eight points, but with only two events to go, it's still a tall task. However, Anderson will be without Grave Digger 32 this coming week in Detroit. As the Grave Digger returned to the shop, it was clear the entire front half of the chassis was severely damaged beyond repair and would need to be completely replaced. While fabricators Paul Cohen and Dan Bright worked quickly to have the front of the chassis replaced, there simply wasn't enough time to get the truck race ready for this weekend. As a result, Anderson will be piloting Carl VanHorn's Grave Digger 23 this coming weekend, as VanHorn has the weekend off. It could be a prime opportunity for Bradshaw to take advantage and try to close the gap on Anderson. It'll take a Double Down from Bradshaw in Detroit to keep his chances alive heading to Syracuse, but Bradshaw is certainly capable of making it happen. For Anderson, he faces the task of jumping into a different truck this weekend and trying to defend his lead and etch his name onto the Monster Jam FS1 Championship Series trophy. For the rest of the competition, they can play the role of spoiler, as there is still time to claim a victory on the road to Monster Jam World Finals XVII in just a few weeks time.
Monster Jam FS1 Championship Series Points
Grave Digger – 18
Monster Energy – 10
Max-D – 6
Junkyard Dog – 3
Avenger – 2
El Toro Loco – 2
Brutus – 1