Adam Anderson and Grave Digger entered Anaheim with a six point lead over Damon Bradshaw and Monster Energy on the Monster Jam FS1 Championship Series with his sights set on expanding that lead this weekend. Anderson did just that, he dominated the competition with his strongest performance of the season. It looks like Anderson has put the title out of reach for the nearest competition in the Monster Jam FS1 Championship Series standings after just six events.
On a night where the competition needed to do everything they could to keep Anderson and Grave Digger out of the points paying positions, Anderson looked just about unbeatable. Second place challenger Damon Bradshaw and Monster Energy looked strong Friday afternoon in practice with the fastest time, but couldn't duplicate that success in qualifying with a time of 24.456. Mike Vaters II and Overkill Evolution laid down the early quick time against Bradshaw with a strong pass at 24.286. Linsey Weenk and Steven Sims Jr. both put in strong passes of their own, with times of 24.543 and 24.537, respectively. In the final qualifying pass it was Anderson separating himself from the pack as he put down the only sub-24-second pass of qualifying with a time of 23.462, .826 faster than Vaters II. With the fastest time Anderson put another point on the board, extending his lead over Bradshaw to seven points.
Anderson's quick pace continued into round one where he knocked out King Krunch with another quick pass at 23.467 to move into the semi-finals. The fourth and fifth place qualifiers of Weenk and Sims Jr. delivered a close race in their round one match up, but it was Weenk coming out on top. Tom Meents and Max-D took a tough bounce in his race against Bradshaw in round one, as Meents found himself onto two wheels and eventually onto his roof with a light rollover. In the other lane, Bradshaw was going for broke in Monster Energy and turned in an impressive time of 23.627 in his winning effort. Vaters II also put in a fast pass in his round one victory as he defeated Soldier Fortune with a time of 23.680, but a quicker time in the previous race would give Bradshaw lane choice in the next round.
The semi-finals saw another convincing win from Anderson where he upped the pace even further with a time of 22.988 in his win against Weenk and the Lucas Oil Crusader. The match up of Monster Energy and Overkill Evolution proved to be one of the most interesting of the night. Both drivers were giving it everything they had to advance and take on Anderson in the finals. Vaters had the early lead through the first turn and over the tabletop, but he missed his marks in the second turn and just clipped the funbox with the right front tire, which unsettled the truck. Bradshaw took advantage with a clean turn and run down the straightaway to the final turn. Vaters tried to make up the difference, but the rear end of Overkill Evolution washed out and nearly spun the truck out. Bradshaw had troubles of his own as Monster Energy drifted a bit wide and just grazed the middle freestyle jump at the tabletop which sent the truck into a hard landing at the finish. It would be a win for Bradshaw but a costly one as the truck suffered a flat tire, broken front steering and issues with a sway bar. TJ Tripp and Melissa Grab gave it their all to get Monster Energy repaired for the final, but there was too much damage and not enough time to make it happen. As a result, Vaters would be brought back to face Anderson in the finals.
With Bradshaw in the pits, Anderson had a chance at extending his lead by two more points heading into the final round. Meanwhile Vaters was looking to take advantage of the reprieve and get his first two points of the season. Anderson took a slight lead at the halfway point of the race, but Vaters came charging back towards the final turn, where they were even getting to the corner. Vaters once again washed out in the final turn while Anderson nailed the corner and sailed to victory with the quickest time of the night at 22.901. It was a dominating racing performance once again from Anderson and Grave Digger, as they were over half a second faster than the nearest competitor which was Bradshaw's first round time. Once again it was Anderson picking up the racing trophy and another crucial two points towards the Monster Jam FS1 Championship Series title. With a Double Down, Anderson could extend the lead to 11 points which would be almost insurmountable for Bradshaw or the rest of the field to top.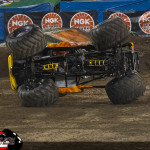 As freestyle got underway, it was Becky McDonough and El Toro Loco who got the crowd going and set the bar high as the third truck out in freestyle. McDonough put together a good freestyle with some nice air and a good pace during regulation time. A nice save in regulation time also lead to some valuable points in her run. In bonus time, McDonough nailed a backflip and lined up for a big jump over the middle of the floor to close out her run. With a 32 in regulation and 3 points in bonus time McDonough took the early lead at 35 with one of her career-best freestyles.
The lead would be short lived for McDonough though as Tom Meents and Max-D would snatch it away just two runs later. Meents came out with his usual big air antics early putting in some huge jumps across the floor. However those huge jumps would take a toll on Max-D, as the rear suspension would be severely compromised and end his efforts just one jump into bonus time. Meents would just sneak into the lead by two points with a score of 37.
Meents' lead came under threat quickly though as reigning Monster Jam World Finals Freestyle Champion Mike Vaters II and Overkill Evolution came out charging in their freestyle run. Vaters wasted no time in his run with some big air right out of the gate and carried a great pace throughout his run. In bonus time, Vaters went for the backflip and didn't quite get all the rotation he hoped with as he landed on the nose of the truck, but he was able to drive out of it and continue his run. He wasted no time and put in another big jump followed by a nice save to end bonus time. When the scores went up on the board though, it was a very harsh score of only 26 from the regulation judges. However there was some redemption from the bonus judge as they put up a score of 4 for his efforts to bring the total up to 30.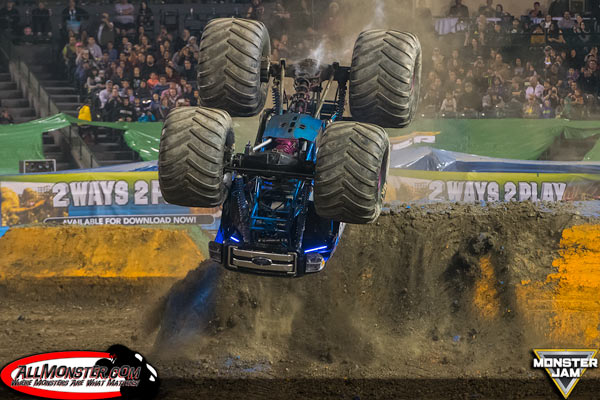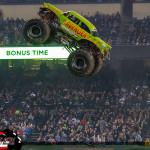 The next threat to Meents lead came from Mr. Excitement, Jim Koehler and the Avenger. Koehler put together a good regulation performance but seemed to be a bit reserved by his standards in an attempt to keep the truck together to bonus time. It was there Koehler unleashed the Avenger as he lined up from home plate and nailed the pushed up race lane with the biggest air of the night! The massive leap took a toll though as the impact blew out the left rear tire and bent a four link bar. With a score of 33, it wouldn't be enough to take the lead from Meents.
A trio of hard chargers in freestyle would follow Koehler in an attempt to take the freestyle lead with some good runs of their own. Dustin Brown and the Junkyard Dog put in a good run but an over-rotated backflip in bonus time would end his run a bit early with a score of 30. Linsey Weenk had the Lucas Oil Crusader working well with some good flow and nice air in regulation but a bad bounce early into bonus time put Weenk on his roof too early to take the lead as he scored a 30 as well.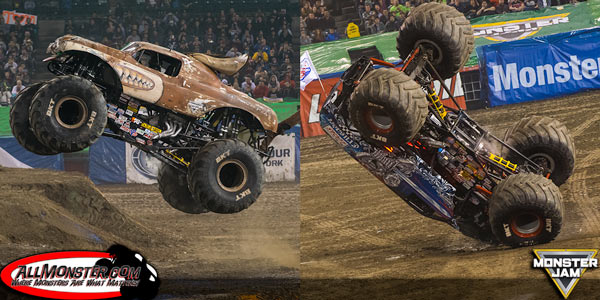 Sims Jr. and Pirate's Curse looked to pillage the lead away from Meents with a great run of their own. The young Sims put together a strong regulation run with plenty of big air and some of the only slap wheelies of the night. A bad bounce early into bonus time though put Pirate's Curse over just too early to take the lead with a score of 35.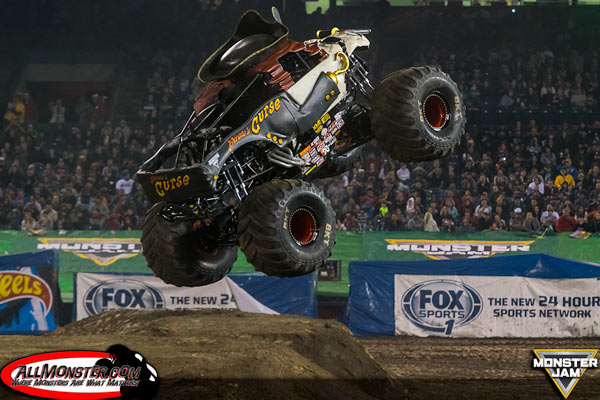 As the second to last driver out, Adam Anderson had plenty of room on the scoreboard to overtake the lead and be the first Double Down winner on the 2016 Monster Jam FS1 Championship Series. Anderson left nothing on the table as he put down a stellar freestyle run with no wasted effort. Big air, great momentum and by far the best regulation performance of the night. Bonus time saw some more big air and successful backflip from Anderson before finishing off the run with another huge jump and a parade lap around the stadium to the pits. Before Anderson pulled back to his pit, he pulled right up to Damon Bradshaw and Monster Energy and stared him down. The score would be a near-perfect 44, leaving Bradshaw with little room to top Anderson.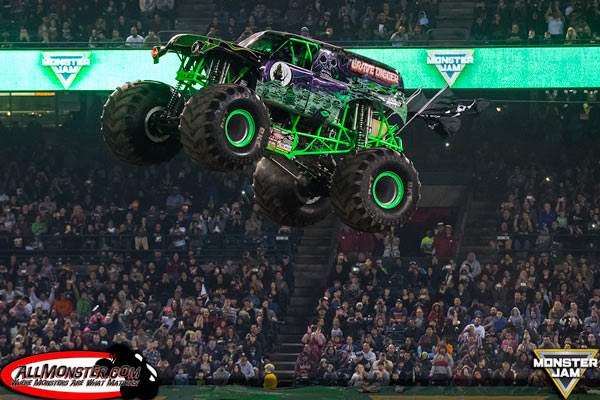 With Anderson on the verge of the Double Down and an 11-point lead Bradshaw went into full attack mode to try and take his third straight freestyle victory. Right out of the pits, Bradshaw went huge with a giant leap to start off his run. Bradshaw continued his assault with some more big air, a pair of slap wheelies and some nice saves which continued into bonus time. It was a spectacular run that would've won on most nights, but it was just not enough, as Bradshaw would score a 40 to take second place in freestyle.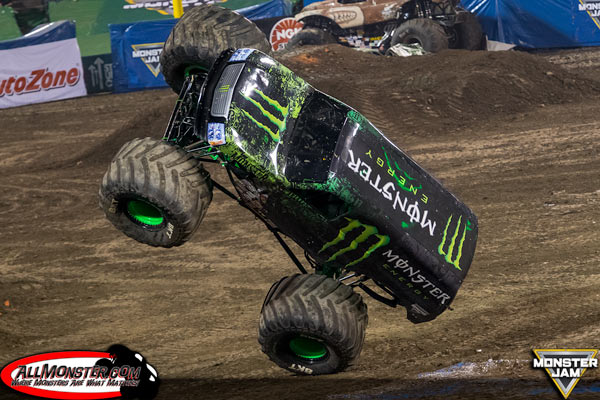 After Anaheim, it looks like Anderson is in an almost unbeatable position at 18 points with just three events remaining on the series. While Bradshaw isn't mathematically eliminated yet, it's going to be a tough task to hold Anderson pointless for the next three events to close the gap. If Anderson can pull off another Double Down next week in St. Louis, he could put the series away and claim the 2016 Monster Jam FS1 Championship Series trophy two weeks early.
Monster Jam FS1 Championship Series Points
Grave Digger – 18
Monster Energy – 7
Max-D – 4
Junkyard Dog – 2
Avenger – 2
El Toro Loco – 2
Brutus – 1