The fourth round of the Monster Jam FS1 Championship Series rolled into Lucas Oil Stadium this weekend where valuable points were on the line towards the series title and an automatic bid into Monster Jam World Finals XVII. The FS1 Championship Series leader Adam Anderson and Grave Digger were poised to build on their lead while the likes of Tom Meents, Damon Bradshaw, and Dustin Brown had their sites set to close the gap that Anderson had built over three events.
The atmosphere in Lucas Oil Stadium was truly electric as the house lights came down with a sell out crowd of over 57,000 people filling the stands. It didn't take long for the competition to get intense as drivers went all out in qualifying to try and get that valuable point for the fastest qualifier on the FS1 Championship Series. Tom Meents and Max-D set the bar early in the first pair out for qualifying with a very strong time of 24.263. Mike Vaters II and Overkill Evolution turned some heads when they put down a stellar time of 24.104 to temporarily take the lead. Not long after that Damon Bradshaw and Monster Energy put down a blistering time of 22.952 which was 1.152 seconds faster than Vaters II. The biggest drama from qualifying came late in the running between series leader Adam Anderson and Bryan Wright in Hooked. As Anderson rounded the final corner he clipped the side of a freestyle obstacle which sent the Grave Digger way out of shape. In the process the Grave Digger drifted towards Hooked's lane where Wright would make contact with Anderson resulting in a hard collision and plenty of breakage to both trucks. Hooked would suffer multiple broken shocks and a broken sway bar knocking them out of the racing competition. For Anderson his crew scrambled to get the Grave Digger back together and with just minutes to spare the truck was able to make it back for the racing competition. It was a valiant effort and their work would prove to be crucial as the night went on. Once the dust settled in qualifying it would be Bradshaw and Monster Energy claiming the top spot and one more vital point towards the FS1 Championship Series title.
After taking the fastest qualifier spot by over a second Bradshaw and Monster Energy had to be the odds on favorite for the racing victory, but the tables turned very quickly in round one. Bradshaw would spin out against Steven Sims Jr. and Pirate's Curse handing a relatively easy win to Sims Jr. and ending Bradshaw's racing competition early. After the extensive repairs done on Grave Digger, Anderson delivered a dominant first round result with a win over Soldier Fortune and the fastest time of the round at 23.675. Anderson gained over seven tenths of a second on his qualifying time and proved he wasn't shaken by the contact earlier in the evening. The next match up saw a bit of an upset as Steve Sims Sr. and the Stone Crusher put down a sneaky quick pass and defeated Tom Meents and Max-D with a sub 24 second pass of his own by turning in a 23.970. To close out round one it would be Linsey Weenk and the Lucas Oil Crusader knocking out Vaters II to move onto the semi-finals.
The semi-finals opened up with another dominant win by Anderson as he improved on his pace one again with a time of 23.362 against Sims Jr. and Pirate's Curse. Despite concerns of a failing front steering system from Anderson he still improved by over three tenths of a second in the semi-finals. Sims Sr. and the Stone Crusher weren't able to recreate their stellar sub 24 second pass from the previous round and as a result Weenk would take the victory to move into the finals against Anderson.
The excitement was building for the finals with crucial points on the line as well as some added pressure for Weenk being in the home of his sponsor Lucas Oil. Anderson took the early lead and never looked back, as Weenk and the Crusader suffered mechanical problems halfway through the race giving Anderson the win and two more points. Despite not facing much competition in the final, Anderson improved once more turning in a 23.056, gaining yet another three tenths of a second. With that in mind though, he still didn't top Bradshaw's qualifying time as the only pass under the 23 second mark. One can only imagine how the bracket might've gone had Bradshaw not spun out in round one and been able to meet Anderson in the semi-finals. We very well could've been looking at a very different scenario for the points standings at the night's end. Nonetheless, Anderson took home another win and boosted his points total to 10 and looked to be on the verge of running away with the FS1 Championship Series.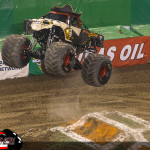 After seeing Anderson pick up two more points with the racing win, the pressure was on the rest of the field to prevent him from doubling down and extending his total to 12. Sims Jr. and Pirate's Curse put together a strong run early as the third truck out in freestyle with some big air and good momentum. He turned it up a notch in bonus and was going even harder but unfortunately found himself on his lid with a little bit of time left on the clock. With a regulation score of 32 and two more bonus points Sims Jr. would hold the early freestyle lead.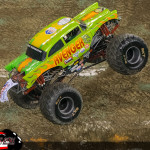 Jim Koehler and the Avenger were determined to turn their luck around with a good freestyle in Indianapolis and put up their best performance of the season. Koehler rocked his regulation time until a hard hit busted off his rear shocks and cut his run short before he could make it to bonus time. He would match Sims Jr's regulation total at 32 for second place early in the competition. Becky McDonough and El Toro Loco had a strong night themselves, as McDonough had picked up one point for the donut contest already on the evening. A good run from the crazy bull would edge out Sims Jr. for the lead. Her lead was short lived as Chad Fortune and Soldier Fortune came out flying to tie McDonough for the lead at 35. With the first tie breaker included it would be Fortune getting the nod for the hot seat.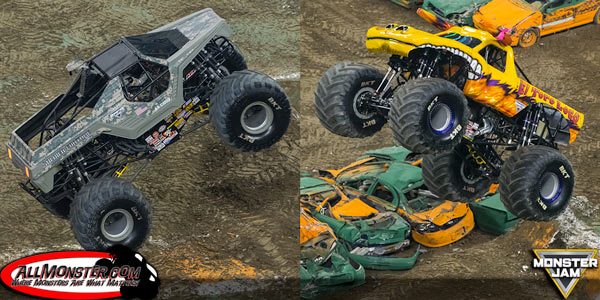 Knowing that a freestyle win might put the FS1 Championship Series out of reach for the rest of the competition, Adam Anderson and the Grave Digger weren't holding anything back as they went out eighth in the freestyle order. Anderson assaulted the floor with a great flow and plenty of big air, but on his final jump in regulation a bad bounce wadded up a four-link bar and would stop him there. The regulation judges rewarded him with the highest score to that point of 35, but the tie-breaker to that point still went to Soldier Fortune.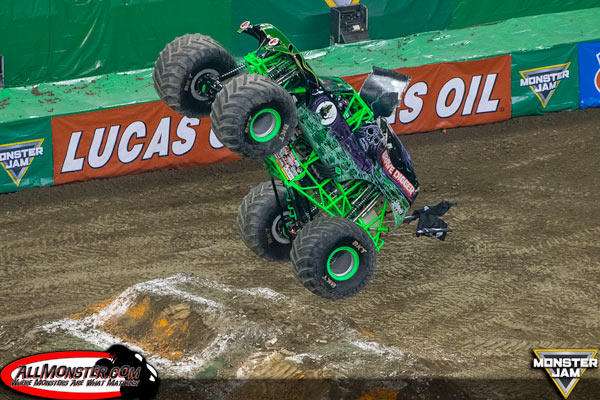 After seeing Anderson come up short of taking the lead, Damon Bradshaw and Monster Energy were in a great position to gain some valuable ground back in the standings with a freestyle win. Bradshaw let it all hang out with a spectacular run full of big air and a pace equaled only by Anderson. Two saves in regulation would set him apart from the pack with the highest regulation score of the night. Bradshaw continued that trend with two more spectacular saves in bonus time to earn 4 more points and a total of 42 to take a commanding lead.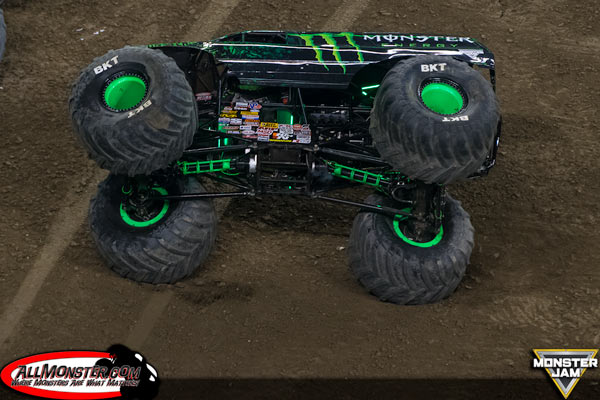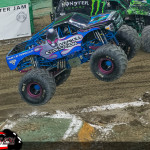 Only two trucks remained in freestyle with Overkill Evolution and Max-D left to go. Vaters II put up a good run of his own but didn't quite have enough to match the likes of Bradshaw or Anderson in regulation. Despite a good run the judges delivered a harsh score of only 28 in regulation. Unfortunately for Vaters he was only able to put up just one jump in bonus time due to mechanical issues and cut his effort short. Regardless it was another respectable performance from the reigning World Finals Freestyle champion.
As the last man out Tom Meents knew what it would take for Max-D to top Monster Energy and they were determined to make that happen. It would be yet another all out assault from Meents in freestyle as he put together some typical Max-D air. As the clock struck bonus time he stepped it up even further landing a backflip early in bonus. The flip took a toll on Max-D, knocking out rear wheel drive. That didn't stop Meents as he still sailed the truck with a massive jump across the center of the floor. Without rear brakes though Meents found himself right in the path of a wounded Lucas Oil Crusader. Meents couldn't avoid it, but grazed the truck and pitched Max-D onto its side. Somehow Meents pulled out a spectacular save to end his freestyle run as the pyro went off when the truck came to a stop. The question then became, was it enough to beat Bradshaw. Right away the regulation judges ended that speculation by giving him a score of 36. Even if Meents had put up a perfect score of 5 in bonus, it would still be 1 point short of Bradshaw. As the bonus score of 4 went up and it was clear Meents wouldn't get the victory, the crowd rained boo's down upon the judges.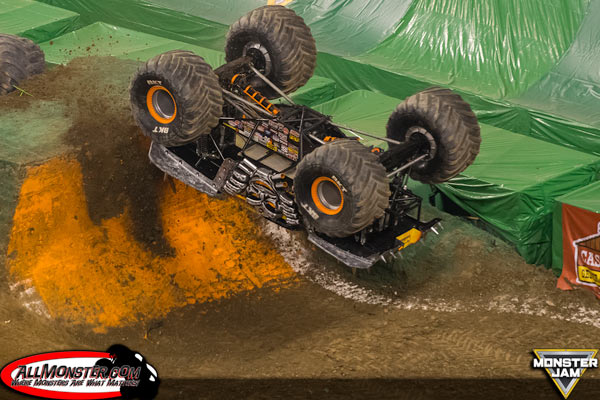 The fourth round of the Monster Jam FS1 Championship Series proved to be a memorable one with plenty of ups and downs as well as developing storylines towards the title. Once again Anderson kept up his points streak with the racing win despite getting tangled up with Hooked in qualifying. For Bradshaw it was a huge three point night and he finally broke through with his first freestyle victory on the Monster Jam FS1 Championship Series. With that in mind though his mistake in round one very well cost him a shot at a massive five point night which could've put him just one point behind Anderson in the standings. Tom Meents was held pointless on the night and if there's anything to be said about that, it's only stoked the flames even more for Meents' team to go even harder next week in Houston.
Monster Jam FS1 Championship Series Standings After Indianapolis
Grave Digger: 10
Monster Energy: 5
Max-D: 3
Junkyard Dog: 2
Avenger: 2
El Toro Loco: 2